In our latest 'Meet the team' blog, Chris Matheson, Associate Principal Scientist, shares his experience of his first year working at Domainex in the medicinal chemistry team. Chris holds a PhD in medicinal chemistry from Newcastle University and uses his expertise to drive client drug discovery projects from early hit-to-lead through to lead optimisation and identification of a clinical candidate.
How did you get into medicinal chemistry and drug discovery?
"After finishing my undergraduate degree in Chemistry from the University of Leeds, I initially began a career with Johnson Matthey developing catalysts for the plastics industry but I quickly realised this wasn't where my passion lies. I wanted to specialise in medicinal chemistry so I completed a masters and PhD in medicinal chemistry with sponsorship from Cancer Research UK at Newcastle University, focussing on irreversible inhibitors of Nek2 kinase for use as anticancer therapeutics. After a couple of post-doctoral positions in the United States at the University of Colorado, where I worked on numerous medicinal chemistry projects across various disease and target classes, I decided to return to the UK and enter industry, which led me to Domainex."
Can you give us a brief insight into your day-to-day activities?
"My day is quite varied. Although I am primarily lab based, we have regular management meetings to keep our projects on track. Between synthetic chemistry work in the lab, I spend time managing the work and progress of other chemists within the team, discussing data and making strategic decisions with my team leader and the biological team. It is also important that we communicate recent developments with the client so that they are up to date on the project's progress."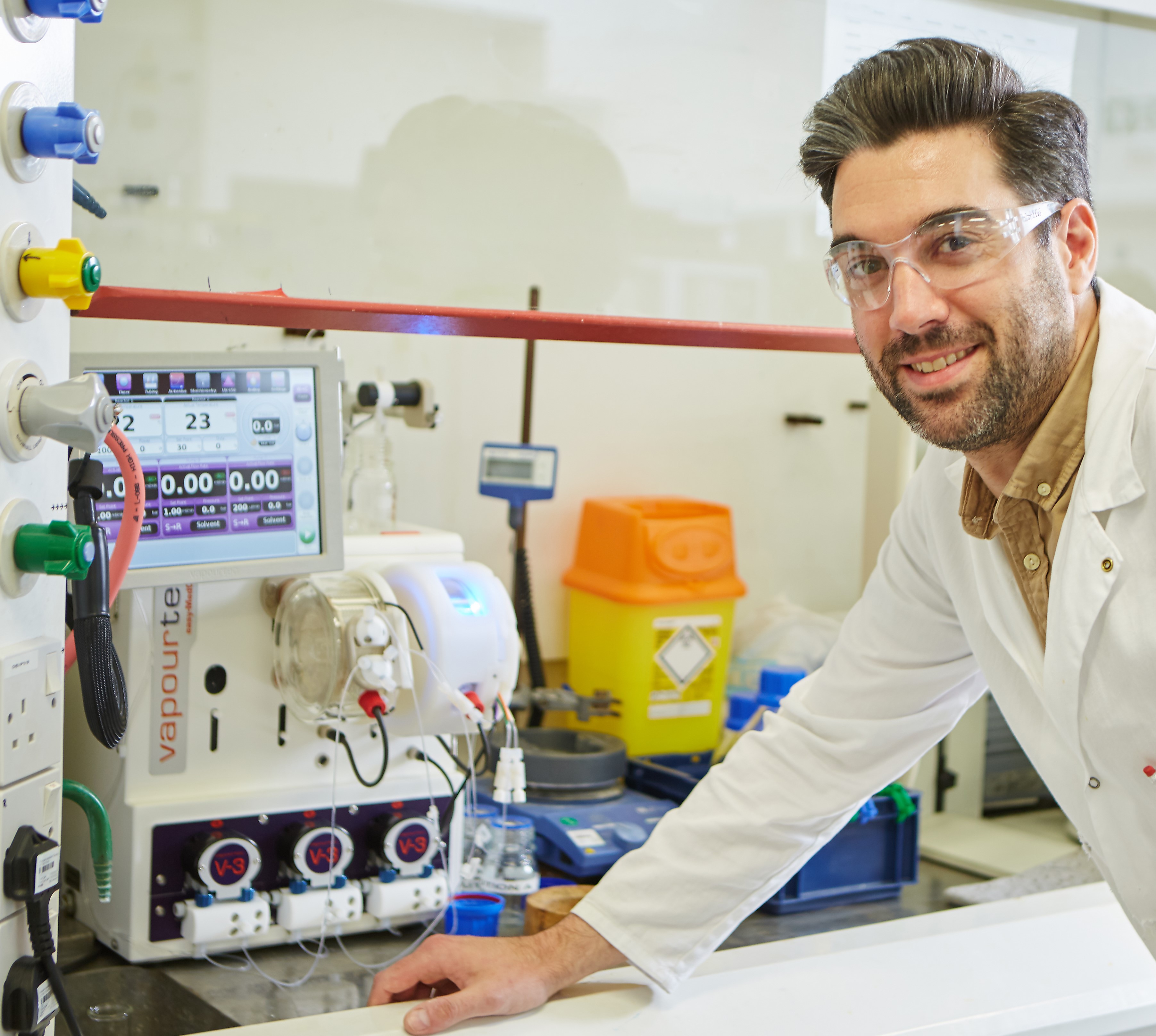 What are your favourite parts of your role and working at Domainex?
"I really enjoy working closely with all of the other scientists across different disciplines here at Domainex. My current project includes team members from both medicinal and analytical chemistry as well as assay biology. Working closely with everyone on an integrated project like this really helps us keep the project focussed and track the progress of any potential candidate compounds through the pipeline. We learn a lot from one another and really appreciate how important each member of the team is – it's a very rewarding experience."
What do you find the most challenging?
"The nature of the work is very dynamic and the direction of a project can move very quickly based on results. As a synthetic chemist it can be difficult to walk away from a tricky target that you have been working hard to reach but knowing when to redirect your efforts elsewhere is always important to make sure the project progresses effectively and efficiently."
What advice would you give to someone interested in a career in drug discovery?
"Always do your research! Find out about any position or lab you are joining – especially early in your career. Joining the wrong lab as a PhD student or the wrong company when you are just starting out can shape the direction you career will take, for good or bad. I'd also say make sure that you are really keen on the career from the outset – there are many highs and lows in drug discovery and a real passion for the field helps you overcome the latter."
And finally, what do you enjoy doing outside work?
"I'm a keen - but sadly quite slow - cyclist and try to get the bike out on the road whenever the British weather lets me. I also can't wait until we can travel abroad again as this last year has been the longest time I haven't skied since I was about 10 years old. Staying closer to home, I like hiking as long as there's a pub on route!"
Are you a medicinal chemist looking for a new challenge? Keen to build your career alongside other experienced scientists? View our current career opportunities and come and join the team!