Kinases are a large family of enzymes that catalyse the transfer of a phosphate group from ATP to a substrate, most commonly a protein or lipid.  
Kinases are involved in a wide variety of diseases and are therefore important drug targets. To date about 50 kinase inhibitor drugs1 have been approved. Many of these are multi-targeted receptor tyrosine kinase (MRTK) inhibitors for the treatment of cancer, e.g. imatinib and dasatinib, although recent research by Domainex and others has delivered much more selective compounds for cancer and other major diseases. However, with 518 kinases encoded in the human genome and evidence that they play an important role in many illnesses such as immunological, inflammatory, degenerative, metabolic, cardiovascular and infectious diseases as well as cancer, there is still much more work to be done in the field.2,3,4

Kinase Drug Discovery at Domainex
Domainex scientists have worked on numerous kinase programmes at all stages of preclinical research from protein expression (for a case study using our proprietary CDH technology: see MEK-1) and hit identification through to candidate nomination.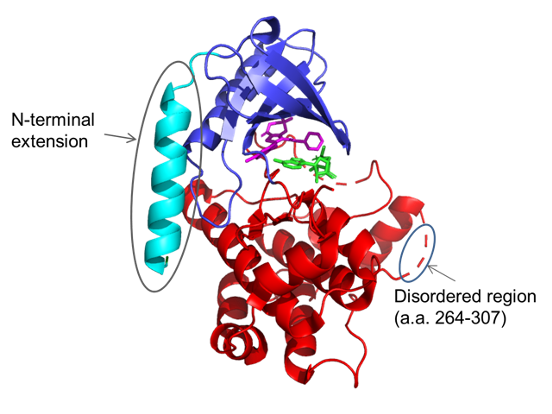 Our assay biologists have established a plethora of assays (both biochemical and cell-based) to support integrated kinase drug discovery programmes, including techniques such as Homogeneous Time Resolved Fluorescence (HTRF), ADP-Glo™ and AlphaLISA. We have also used NanoBRET™ to quantitatively measure binding of test compounds to native kinase targets in live cells, and Western blotting and AlphaLISA SureFire Ultra to study phosphorylation of substrate proteins in a cellular environment. We have also developed assays to demonstrate effects on disease-relevant phenotypic read-outs (e.g. for release of cytokines).
Domainex medicinal and computational chemists are experienced at designing compounds to target a variety of binding modes including Type I, Type 2, allosteric and covalent inhibitors. Often these strategies are informed by structure-based drug design, using information provided by our in-house X-ray crystallographers.
Case studies of our integrated kinase projects include MAP4K4 (Imperial College), p38 MAPK (Macrophage Pharma) and TANK-binding kinase 1 (TBK1) and IkappaB kinase epsilon (IKK-ε).
If you would like to access the Domainex expertise in kinase inhibitor drug research to support your own programme we would be delighted to hear from you.
---
References
U.S. Food & Drug Administration. New drugs at FDA: CDER's new molecular entities and new therapeutic biological products.
The protein kinase complement of the human genome. Manning, G., Whyte, D. B., Martinez, R., Hunter, T. & Sudarsanam, S. Science, 2002, 298, 1912–1934.
The ins and outs of selective kinase inhibitor development. Muller, S., Chaikuad, A., Gray, N. S. & Knapp, S. Nat. Chem. Biol. 2015, 11, 818–821.
Protein kinase inhibitors as a therapeutic modality. Levitzki, A. Acc. Chem. Res. 2003, 36, 462–469.
Domainex press releases in the kinase field
TBK1 inhibitors have profound disease-modifying effect in rheumatoid arthritis models 
20th December 2018
Domainex expands partnership with Imperial College London to reduce heart muscle damage during heart attacks
14th June 2017
Domainex and Imperial College London Partner to Discover New Therapies to Treat Myocardial Infarction
20th October 2015
Domainex announces the grant of US and European patents for its lead programme, targeting IKK epsilon and TBK1 for the Treatment of diseases such as COPD and Psoriasis.
11th May 2015
Domainex Reports Success of its Lead Compound in Pre-clinical Model of COPD and Secures £1.4m Biomedical Catalyst Award
9th July 2014
Domainex programme shows great promise for the treatment of inflammatory diseases, such as Chronic Obstructive Pulmonary Disease (COPD)
7th April 2014
Domainex announces investment round to progress its TBK1/IKKe and epigenetic programmes
14th February 2013
Domainex announces that compounds from its IKKepsilon programme have activity against the IL-17 signaling pathway
5th November 2012