The Royal Society of Chemistry recently organised the 8th RSC-BMCS Fragment-based Drug Discovery meeting at Churchill College, Cambridge, UK, which rather nicely coincided with some warm days just before an onslaught of cold weather and even snow. Overall, it was a well-attended meeting with many overseas delegates and a welcome change from the less personal virtual meetings that have become the necessary norm.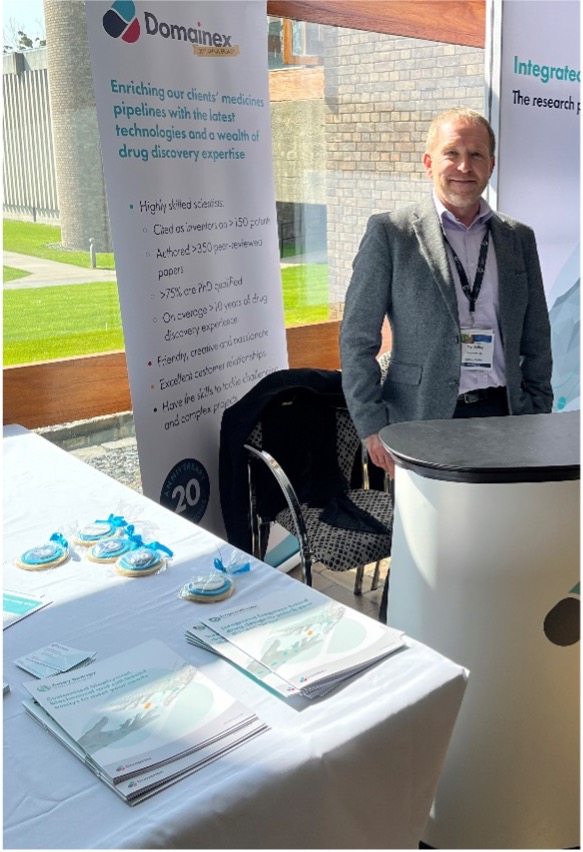 Domainex was strongly represented at the event by Ray Boffey (Executive Director of Medicines Research), Jana Wolf (Team Leader, Assay Biology), Catherine Stace (Director of Business development), Anna Hopkins (Team Leader, Chemistry), Nick Martin (Associate Principal Scientist, Chemistry) and Kartika Shetty (Senior Scientist, Assay Biology). Kartika presented a poster on the impact of two biophysical methods; Grating Coupled Interferometry (GCI) using Creoptix's waveRAPID platform and Temperature Related Intensity Changes (TRIC) using NanoTemper's Dianthus; on high-throughput fragment screening (click here to view the poster). While Nick presented a poster and gave a flash presentation on one of our successful fragment screening case studies (click here to view the poster).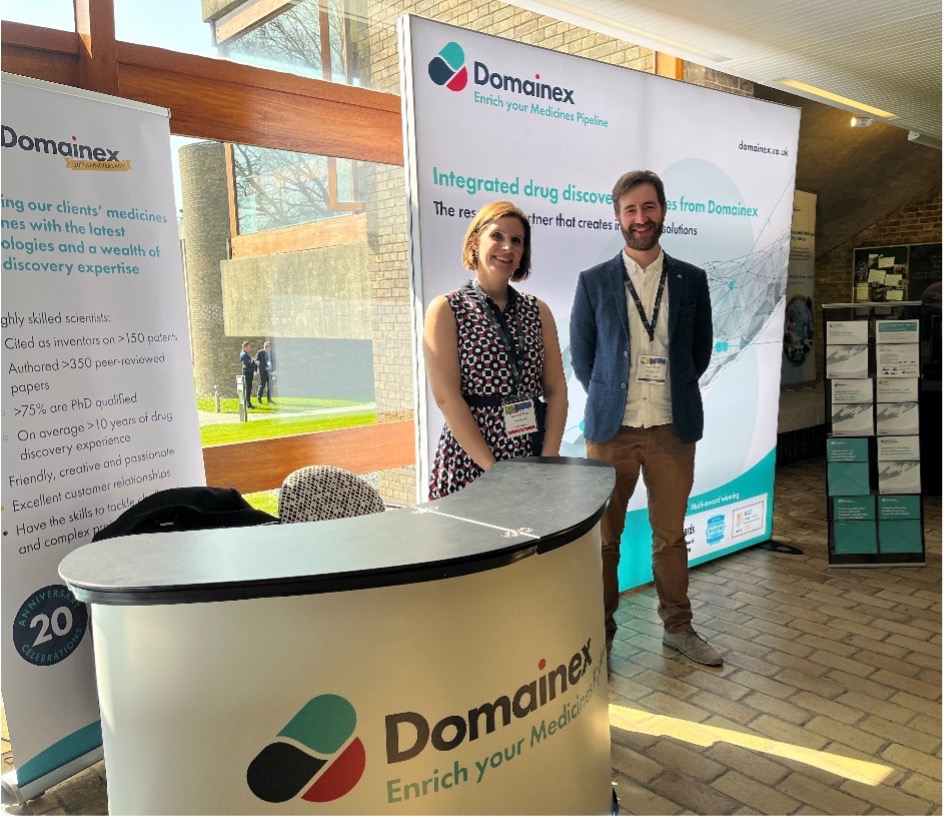 In character with previous Fragments-RSC meetings, most of the 15 talks centred around case studies involving the use of fragment screening against target proteins, while the rest summarised the impact of the present and rising technologies in fragment library design or screening.
Several case studies involving fragment screening campaigns from the pharma sector as well as research institutions were presented. Some particularly invigorating talks were from James O'Connell from UCB Pharma, during which he described the design of orally bioavailable inhibitors of TNF (Tumor Necrosis Factor), and from Ijen Chen and Chris de Graaf from Sosei Heptares, who presented a talk focussed on deriving chemical scaffold information by comparing existing GPCR and non GPCR drugs to enrich their fragment library against a GPCR target.
Pamela Williams from Astex Pharmaceuticals shared her observations regarding the rapidly increasing use of CryoEM in "structure focussed drug discovery". It was an information rich talk where the difference between global and local resolutions of CryoEM data were discussed while also touching upon why X-ray crystallography will remain the mainstay for structure-based drug design (SBDD) and fragment-based drug design (FBDD) until the full potential of the CryoEM maps is deciphered.
Rob Hubbard from Vernalis Ltd touched upon the general aspects of FBDD in drug discovery, while citing instances where Nuclear Magnetic Resonance (NMR) proved useful in the absence of crystallographic information. With interest in covalent inhibitors on the rise in the past 50 years, talks by Dan Nomura (University of California, Berkeley) on the development of platforms for the application of chemoproteomics-enabled covalent ligand discovery, Nir London (The Weissman Institute of Science) on electrophilic fragment screening against cysteine-containing proteins and Rosa Cookson (GSK) on screening of cysteine reactive covalent fragments against the DUBome, were well received.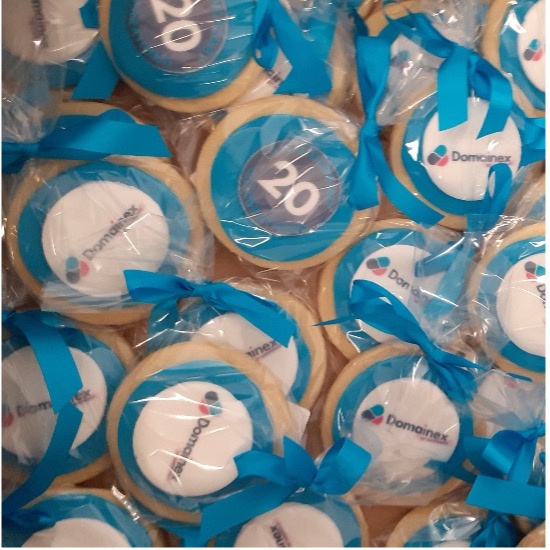 It was nice to be at an in-person seminar after the pandemic and we could see that in the enthusiasm we received for our posters and in the discussions we had with the other delegates. It was apparent from the meeting that Domainex is well positioned in terms of keeping abreast of emerging technologies in fragment screening. If you would like to find out more about our FBDD capabilities please click here to view our webpage or get in touch, we would love to hear from you.