Since the start of 2020, much of the life science industry has refocused its research efforts to tackle COVID-19, aiming to develop effective vaccines and treatments for this novel disease. With an urgent need to overcome the virus, to save both lives and economies, over 600 drugs and vaccines are currently in development worldwide[1]. This urgency has also led to the formation of many global collaborations, aiming to combine the expertise of individual organisations in order to accelerate what has traditionally been a very long and arduous process. One company that joined the fight is international biopharmaceutical group, Sosei Heptares. It brought in a number of external organisations from around the world, including drug discovery collaborator Domainex, to supplement its experience in the early development of new medicines[2].
With many different therapeutic pathways for a single disease, Sosei Heptares decided to use its structure-based drug design (SBDD) expertise to target the SARS-CoV-2 main protease (Mpro) as it plays a crucial role in viral replication[3],[4],[5],[6], enabling the viral particles to assemble and break out of the cell allowing the virus to spread and reproduce. Protease inhibitors are an established class of antiviral agents and by inhibiting this protease, Sosei Heptares aims to prevent viral replication and remove infection. Domainex has previously worked on a number of other protease projects and so was selected by Sosei Heptares as its partner to develop and undertake the primary kinetic screen of the protease to test the inhibitory effects of new compounds.
The programme was initiated in April 2020 and Domainex's role began in June led by Dr Nicholas Bland, one of Domainex's leading resident enzymologists. With prior expertise in protease biochemistry and anti-infectives development, Domainex was able to develop an effective assay and return the first round of screening results within one month. This initial data showed some promising results which were delivered to Sosei Heptares to inform their medicinal chemistry strategy and drive the project forward. Having now completed further rounds of screening, Domainex delivered even more promising results, again providing the team at Sosei Heptares with vital data to drive forward their programme.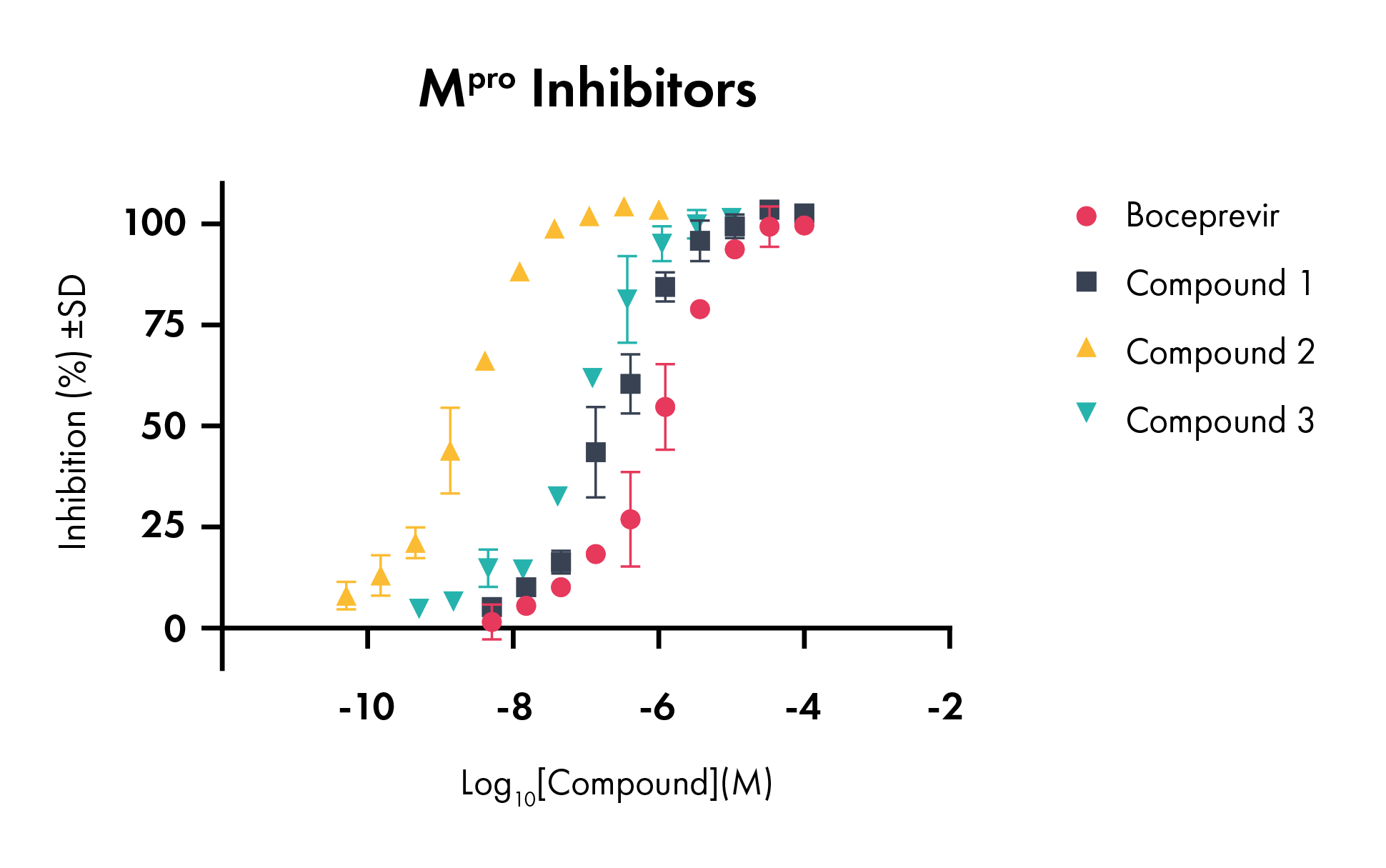 The rapid turnaround of results has enabled Sosei Heptares to efficiently kick off its project and expedite the discovery process. The Company has successfully designed three distinct series of compounds with attractive anti-viral drug-like properties and advanced the most promising molecules. These compounds have demonstrated high potency in inhibiting the activity of the SARS-CoV-2 Mpro as well as exhibiting promising oral bioavailability and blood plasma levels in animal studies. Several compounds are being further optimised for preclinical studies.
The assay, developed by Domainex, also has the functionality to characterise fully the mechanism of inhibition and reversibility (or lack thereof) of these compounds, which could help to prioritise which series to develop. As this protease is common to many coronaviruses, there is also the potential for use in the development of novel oral small molecules against predicted future variants of SARS-CoV-2 and other related human viruses; this is a key consideration for the project.
Miles Congreve, Chief Scientific Officer of Sosei Heptares, commented: "The response we have had from industry and academia to participate in this COVID-19 program has been exceptional and enabled the rapid progress seen to date. It has been a great collaborative effort to identify promising small molecules using our SBDD platform, and to progress them through the design phases so quickly to provide initial evidence of their potential as oral treatments for newly diagnosed COVID-19." 
Alongside many others, this collaborative approach confirms the importance of partnerships and teamwork in scientific research and drug development. It is also clear that in a world of limited resources and streamlined research teams, contract research organisations such as Domainex have a significant role to play in the efficient delivery of new effective medicines. Sosei Heptares has partnered with Domainex to complement their internal resources, increasing the capacity needed at such a short timescale and allowing them to combine expertise with the team at Domainex to accelerate the programme. The importance of this has never been more evident than during this global pandemic, but also provides valuable lessons for drug development teams which could help accelerate projects across the board, for the benefit of organisations and patients alike.
Find out more about Domainex's assay development expertise and hear directly from other happy customers about why they chose Domainex as their drug discovery research partner.
[1] https://www.statista.com/statistics/1119060/coronavirus-drugs-in-development-by-phase-worldwide/
[2] https://soseiheptares.com/news/652/129/Sosei-Heptares-COVID-19-Program-Identifies-Potent-Broad-Spectrum-Anti-Viral-Small-Molecules-for-Further-Development.html
[3] R. Hilgenfeld, Febs J. (2014), 281, 4085-4096
[4] T. Pillaiyar et al, J. Med. Chem. (2016), 59, 6595-6628
[5] L. Zhang et al, Science (2020) DOI: 10.1126/science.abb3405
[6] Z. Jin et al, Nature (2020) DOI: 10.1038/s41586-020-2223-y